Image via Roblox Tug of War Simulator
Last checked: August 2, 2023

Added a new code recently!
Tug of War Simulator is a true test of your clicker abilities. Build up your bicep power, grip strength, and endurance to take on bosses such as the Assassin and the Ninja as you try to collect wins for rebirths and move to the next challenge. Can you defeat all-comers and become the ultimate tug-of-war champion? If you're going to go for it, I found these codes certainly helped me get started.
The Tug of War Simulator codes you'll find below can give you anything from free pets that give you permanent bonuses to free spins that can get you anything from luck or win multiplying potions to wins and stats. If you love sports-based clicker experiences on Roblox, you should also check out Weight Lifting Simulator Codes.
All Tug of War Simulator Codes List
Active Tug of War Simulator Codes (Working)
Delayed—Redeem for 5 Free Spins (New)
WOW—Redeem for in-game rewards (New)
release—Redeem for a free Ninja Egg
cosmoblox—Redeem for 2 Free Spins
Expired Tug of War Simulator Codes
There are no expired codes yet
Related: Gym Tycoon Codes
How to redeem codes in Tug of War Simulator
Follow the instructions below to redeem codes in Tug of War Simulator. Note that you need to follow @cosmobloxGames on Twitter before you can enter any codes.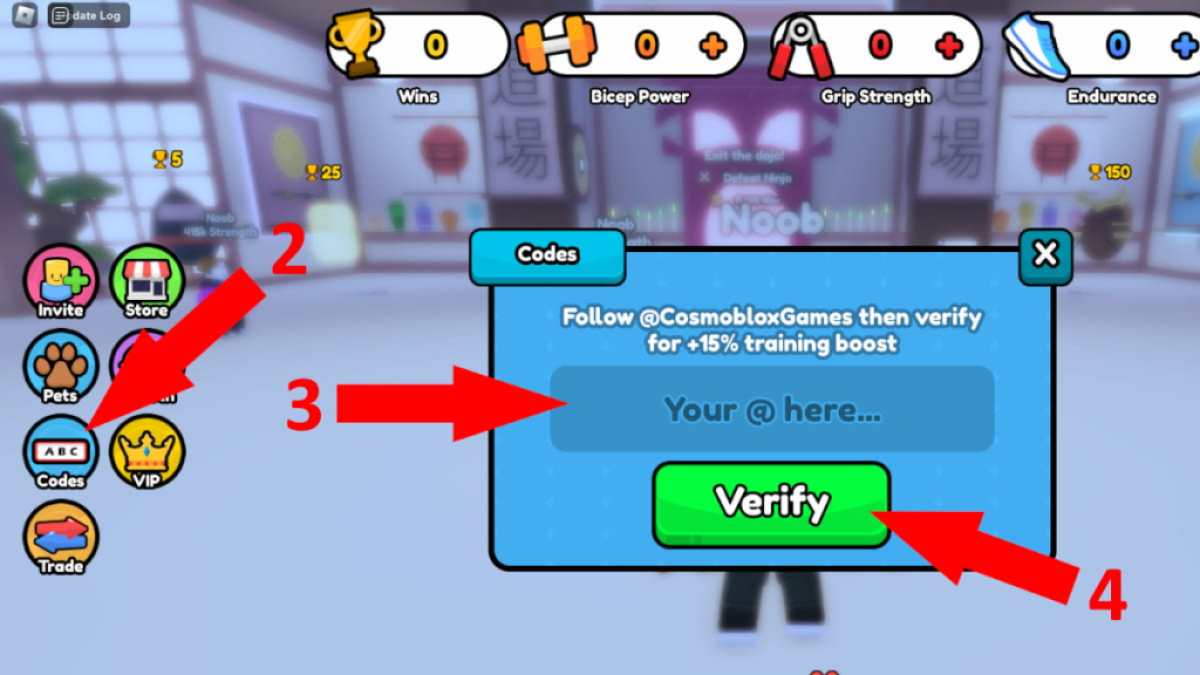 Launch Tug of War Simulator on Roblox.
Press the Codes button on the left of the screen.
In the text box that says Enter Code.. do so exactly as it appears above.
Press the green Submit button to claim your reward!
How can you get more codes for Roblox Tug of War Simulator?
If you're pulling for more Tug of War Simulator codes, start off by joining the Cosmoblox Roblox Group. You can also follow @cosmobloxGames on Twitter for code information, as well as become part of the community over at the Cosmoblox Discord Server. There you can find game news, sneak peeks, giveaways, and more.
Why are my codes not working?
Tug of War Simulator codes have to be entered exactly as you find them above, so we suggest you cut and paste them directly into Roblox from here. This avoids the possibility of small errors that can break them, such as typos or missing a capital letter. If a code says it has expired or similar, it means the code has been withdrawn from the game so will no longer work Let us know so we can keep this guide up to date, and then check back with us soon for more codes.
Other ways to get free rewards in Tug of War Simulator
There are plenty of chances to get more freebies in Tug of War Simulator! Keep a close eye on the Free Gift parcel on the right of the screen, where you can get a total of 12 free gifts including stat boosts, potions, and pets for your first 90 minutes of play. After that, you can relog to start the timer again! Just above that is a Daily to claim, and don't forget to use your free spins, which can net you anything from rare eggs to loads of free wins.
What is Roblox Tug of War Simulator?
Tug of War Simulator is a PVE clicker experience in which you build up three stats (biceps, grip, and endurance) before taking on bosses in tug-of-war battles to earn victories. You can claim pets gacha-style to improve your stats, use potions for temporary boosts, and then rebirth for permanent advantages until you're ready to move on to even stronger opponents.
If you're looking for codes for other games, we have a ton of them in our Roblox Game Codes post! You can also get a bunch of free stuff via our Roblox Promo Codes page. And in the meantime, take a look at the latest news to stay up-to-date on all things entertainment.

Gratis robux