Image via Roblox Push Simulator
Last checked: July 26, 2023

We looked for the latest codes!
If you've ever wanted to push your worst enemy off a cliff, you can now with Push Simulator! Build up your strength by clicking, then take on a series of increasingly strong bosses to gain wins. When you have enough, you can spend your winnings on rebirths and pets, which can permanently up your stats, while you can also collect potions for big temporary boosts!
But of course, the best way I've found to get ahead is by using our lovely Roblox Push Simulator codes! I've found that the potions you can get from the codes are a really big help as long as you're going to be online for their full duration. Doubling your strength can be massive in taking down bigger bosses for more wins! If you love Roblox clicker games where you take on bosses, be sure to also check out Arm Wrestle Simulator Codes.
All Push Simulator Codes List
Working Push Simulator Codes (Active)
Mauo—Redeem for a 30-minute 2x Win Boost (New)
Carot—Redeem for a 30-minute 2x Win Boost (New)
2MVisitsO—Redeem for a 30-minute 2x Win Boost (New)
3MVisitsO—Redeem for a 30-minute 2x Strength Boost (New)
1MVistsO—Redeem code for a 30-minute 2x SuperLuck Boost
FIRSTUPDATE—Redeem for a 2-hour 2x SuperLuck Boost
PUSH—Redeem for a 30-minute x2 Strength Potion.
Expired Push Simulator Codes
There are no expired codes for Push Simulator
Related: Muscle Legends Codes
How to redeem codes in Push Simulator
Follow the instructions below to redeem codes in Push Simulator.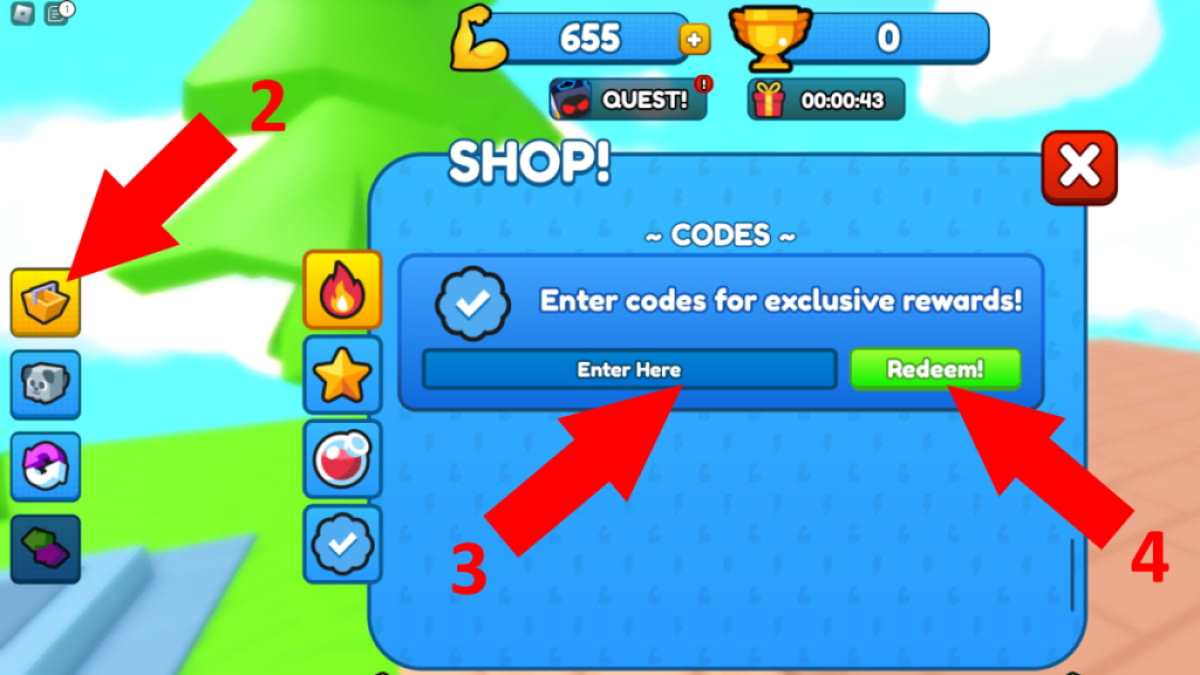 Launch Push Simulator on Roblox.
Click the Shop Basket icon on the left of the screen.
Scroll to the bottom of the Shop pop-up, and where it says Enter Here, type in the code exactly as it appears in the list above.
Press the green Redeem! button to claim your reward!
How can you get more Push Simulator codes?
If you're pushing for more Push Simulator codes, a good way to begin is by becoming a member of the TurboByte Games Roblox Group. Outside of Roblox, you can become part of the official TurboByte Discord Server, which has a bunch of useful sections, including announcements and codes channels.
Why are my Push Simulator codes not working?
If you're having problems with one of the Push Simulator codes above, first check it for typos. Check capitalization and also make sure you haven't mistaken a number for a letter. The easiest way to ensure this is to cut and paste the code directly from here. If that doesn't fix the problem, the code has probably expired. In this case, let us know in the comments here, and we'll update the guide. Then we'll go check everywhere for new codes, so come back soon!
Other ways to get free rewards in Push Simulator
If you want to find more freebies in Push Simulator, the easiest way is to play as often as you can! Staying in-game for two hours, pushing 250 bosses, and hatching 5k eggs will complete the quest and gain you a Huge Dominus Dragon pet for free! You can claim 12 free rewards just for staying logged in for 90 minutes straight too, after which you can relog and start it again. Freebies include wins, strength, pets, and potions!
What is Push Simulator?
Push Simulator is a Roblox clicker experience in which you build up your strength before taking on a series of bosses in pushing challenges. You can collect pets and claim rebirths for permanent bonuses and use potions for temporary ones, eventually moving onto new areas to take on tougher bosses.
If you're looking for codes for other games, we have a ton of them in our Roblox Game Codes post! You can also get a bunch of free stuff via our Roblox Promo Codes page. And in the meantime, take a look at the latest news to stay up-to-date on all things entertainment.
Gratis robux