Image via Roblox Creature Chaos
Updated July 28, 2023

Added a new code.
In Roblox Creature Chaos, players play as either Humans or Creatures. The human players have seven minutes to prepare their defenses during the day cycle, creating structures that will be hard for the creatures to climb or destroy. When night comes, the Humans try to survive for six minutes as the creatures attack. But you will not know which side you are on until night begins! Humans gain points by surviving and defeating creatures. Creatures gain rewards for defeating humans.
When you use codes in Creature Chaos, you are awarded resources (such as Points and Tokens) that can be spent on Weapons, Armor, Items, Blocks, and Extra Slots. You may also receive Boosts that will make it easy to earn the resources in the game.
If you like Roblox Creature Chaos, why not check out some of the other Codes pages for other games such as Creatures Tycoon, Survive the Killer – Knives, coins, XP, Survival Zombie Tycoon, and Build Tower Simulator?
All Creature Chaos Codes List
Creature Chaos Codes (Working)
Here's a look at all the working Creature Chaos codes.
GAMERETURN—Redeem for 300 Tokens and 100 Points (New)
UPDATE3—Redeem for 350 Tokens and 100 Points
TRICKORTREAT—Redeem for 300 Tokens and 150 Points
Creature Chaos Codes (Expired)
These codes for Creature Chaos no longer work.
There are no expired codes for Creature Chaos.
How to redeem Creature Chaos codes
Redeeming codes for free rewards in Creature Chaos is easy.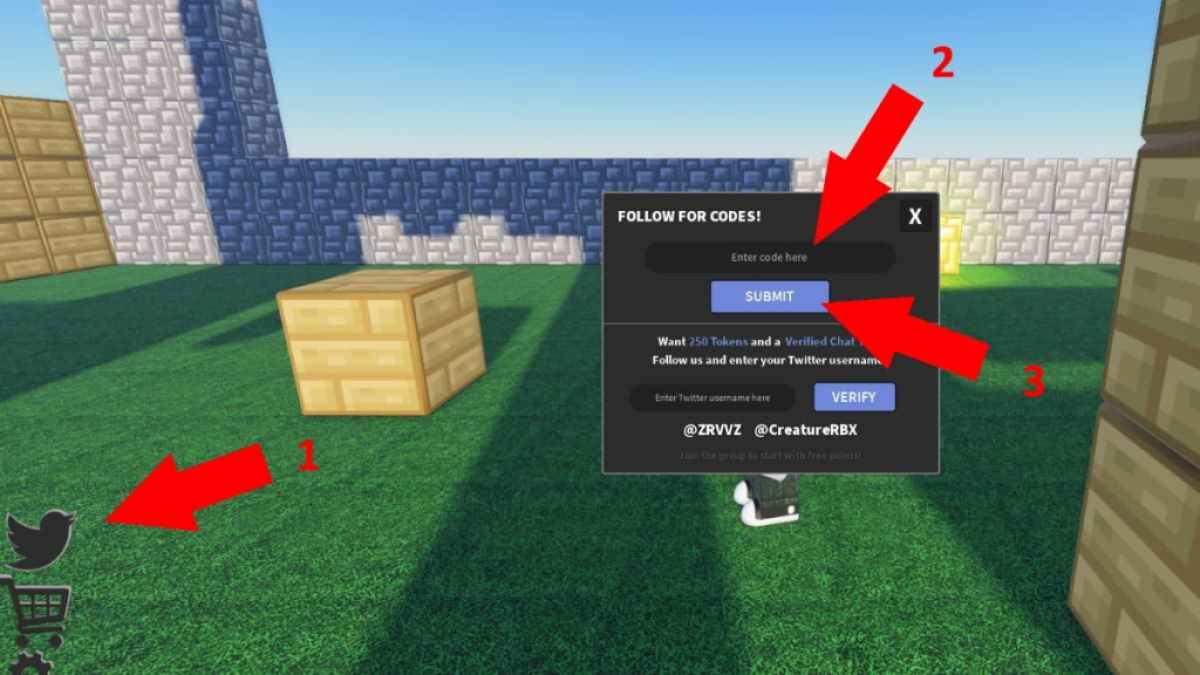 Click the Twitter bird on the left of your screen.
This opens a pop-up window in the middle of your screen. Click on the top text box inside it, which says Enter code here.
Put your code in exactly (copy and paste is best) and then press the SUBMIT button below the box to claim your reward!
How can you get more Creature Chaos codes?
We do our best to update our Creature Chaos codes list as often as possible, so bookmark this page and come back often. But if you want to try and hunt out more yourself, the best places to start are by joining the Creature Chaos Roblox Group and Discord Group, and by following them on Twitter.
Hey! My Creature Chaos codes aren't working
Codes for Roblox games such as Creature Chaos need to be entered exactly as you see them, including getting capitalization exactly right. We always recommend you copy and paste the codes directly into the text box to avoid potential typos or mistaking a letter for a number.
If you've checked and double-checked and a code still doesn't work, it has probably expired. Most Roblox codes have an expiration date. If we're still listing an expired code as active, sorry! Please let us know so that we can update our guide. And come back soon to check for more codes.
Building strong structures in Creature Chaos
The key to surviving as humans in Creature Chaos is constructing structures that will keep you and your teammates alive. Here are some key building tips to follow:
A deep outer wall: Build a deep wall too high to jump over around some central structures. Unless the creatures are well organized, this will keep them busy for the first few minutes.
Tall structures with multiple columns: Inside your wall, build high. But make sure you have enough columns to withstand a few of them being blown up. The last thing you need is for your buildings to fall on the first explosion!
Offense is the best defense: There is little point hiding within your walls until it is too late. Try to group with other humans and take out weak creatures before they can do any damage.
What is Creature Chaos?
Creature Chaos is a battle game between two sides, the humans and the creatures. The twist is, you don't know what side you'll be on. This means all players help build the base during the day. But when night comes, some players become creatures and try to defeat the humans. As a human, if you're defeated, you switch sides and try to help the creatures win. And even if you're defeated as a creature, the game isn't over, as you can carry on as an explosive to try and destroy the human structures and players.
If you're looking for codes for other games, we have loads of them in our Roblox Game Codes post! You can also get a bunch of free stuff via our Roblox Promo Codes page.

Gratis robux